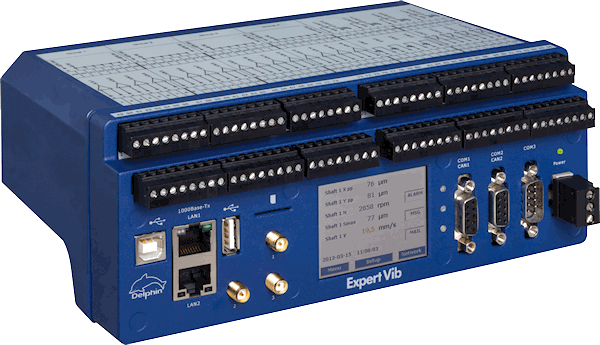 After the success of Expert Vibro with 8 or 16 vibration inputs, Delphin Technology AG now offers two new versions of the universal vibration measuring device. 4 or 12 inputs are now also available to enable you to perform, with even greater flexibly and with no channel overheads, a wide range of tasks in the field of vibration measurement technology.
Expert Vibro is the measuring device to acquire a wide variety of vibration types.
State-of-the-art processor technology in a compact design enables 4, 8, 12 or 16 synchronous vibration measurement channels with sampling rates up to 50 kHz per channel. 24 bit A/D converters guarantee extremely high precision. Flexible switching is possible between measuring voltages, currents, IEPE or shaft vibration sensors. Integrated comparators and digital inputs enable flexible triggering. Measurement values are monitored online and digital outputs can be switched within milliseconds when limit values are exceeded. In addition to 4 analog outputs for monitoring purposes, two PROFIBUS-DP slave interfaces as well as one Modbus TCP, one Modbus RTU and one freely configurable CAN interface are available for fieldbus connection. All signal analysis functions are configured and executed online in the hardware. This includes individually parameterizable filters, differentiators, integrators and FFT calculation. An internal data memory of up to 14 GB enables Expert Vibro devices to operate fully independently.
The Vibro option in the ProfiSignal software offers a wide range of analysis options for the acquired data. In addition to a basic spectrum representation based on FFT analysis, the option also offers many special diagrams for vibration analysis, such as envelope spectrum, spectrograms and orbit diagrams.